DirectTV vs Dish Best Satellite TV Provider
---
Many folks who live in rural rural areas don't have access to cable or broadband. Satellite TV is their only option.
While those who live close enough to receive broadband can enjoy the benefits of streaming television. Many people living in the American Heartland, or just out of reach of high speed cable or television and cell phone transmission towers are dependent on Dish or DirecTV. This comparison between these two large Satellite providers, will help determine which offers the best value and features.
Satellite TV Equipment
Both DirecTV and Dish TV provide their own equipment. Let's take a look at the features that sets them apart. If subscribing to satellite, our recommendation is to sign up and take advantage of an HD DVR. Both Dish and DirecTV have great hardware that will record live HD TV for later playback. This gives the option to fast forward, skip commercials, pause live TV or rewind and playback something you may have missed. DVRs that automatically record your favorite TV series each week in clear HD is one of the best things the Satellite industry has going.


DirecTV Genie
Billed as the most advanced HD DVR ever, here are some of the great features the DirecTV Genie has to offer:
Any Room DVR - Let's you enjoy the features of an HD DVR in any room of the house. Up to 4 TVs at once. This requires a a Genie Mini. A tiny easily hidden device. Own a Samsung or Sony DIRECTV Ready TV? These require no additional hardware.

Genie will let you record up to 5 HD shows at the same time.

2 Week TV guide to schedule and record shows ahead of time.

If you find a program that has already started, DirecTV Genie can record the show from the beginning.

Picture in picture which let's you watch two shows at once.

Find and follow your favorite Sports teams all in one easy to use location.

Recommendations based on your previously watched choices
DirecTV Now Channel Guide
Free DirecTV Mobile Apps
Take control of your DirecTV right from your Google Android, Kindle or Apple iPad. Download these DirecTV apps FREE for your device:
Click the image to download the app you need
Advantages of DirecTV vs Dish
Currently DirecTV has 195 full-time HD channels.
More Sports Channels than Dish Network
20 more favorite channels in their packages
American Customer Service Index ranked DirecTV Number 1.
Dish Hopper
Dish offered a revolutionary feature when it came out with their Hopper. Hopper Auto Hop automatically skips over ads. This feature alone may have been the tipping point between Dish and DirecTV up until recently. Their latest deal with Disney who owns ABC included a clause that said Dish would disable the Hopper for three days after a show has aired on any ABC Channel. They may have shot the Goose that laid the golden eggs when they signed this deal. If other content providers ask for the same deal, this will eliminate one of the Hoppers most loved and valuable features.
Other great features of the Dish Hopper:
Virtual Joey - an App found on 2013 Smart LG TVs that communicates with your Dish Hopper over an Ethernet connection. No external device needed. Only one app allowed per account.

Joey - For all other TVs similar to the Genie Mini, the Joey is a small device can be added to additional televisions.

The Dish Hopper includes a 2 TB Hard Drive which can store up to 2,000 hours on your DVR. 2X Larger than the DirecTV Genie 1 TB Hard Drive.

Record up to six different channels at one time

Hook your Dish Hopper to a wired or WiFi internet connection and get access to Rent On Demand Content, Apps like FaceBook or Pandora, or order PPV events.

Stream Live TV, On Demand or recorded TV shows on your DVR to your mobile devices or computers on your home network.

Transfer your recorded shows to your mobile device to watch your shows later even if you leave the house using Dish's Free app.


Free DishAnywhere Mobile Apps
Take control of your Dish Hopper right from your Google Android or Apple iDevices. Both at home or on the go. Download this free Dish App:
Advantages of Dish vs DirecTV
Gizmodo calls the Dish Hopper "The King of DVRS"
SRS Tru Volume for NO MORE LOUD Commercials
Dish offers 70 channels of SiriusXM satellite radio
Search by title, actor along with predictive search to quickly help find new shows
Picture Quality (PQ) Dish vs DirecTV
When it comes to high resolution HD, DirecTV has better PQ than Dish. Dish is not bad, although not quite as good as DirecTV. Some people may notice it others may not. Not a deal breaker in any case.
Dish Network vs DirecTV Pricing
Dish offers a lower introductory deal and annual price than DirecTV. Your paying more for DirecTV's larger channel lineup and higher resolution HD picture. In the end it will be up to you to decide which service offers what you want most. Switch providers to take advantage of new subscriber promotions. Always negotiate with DirecTV or Dish Network Customer Service Retention once your initial commitment is over.
---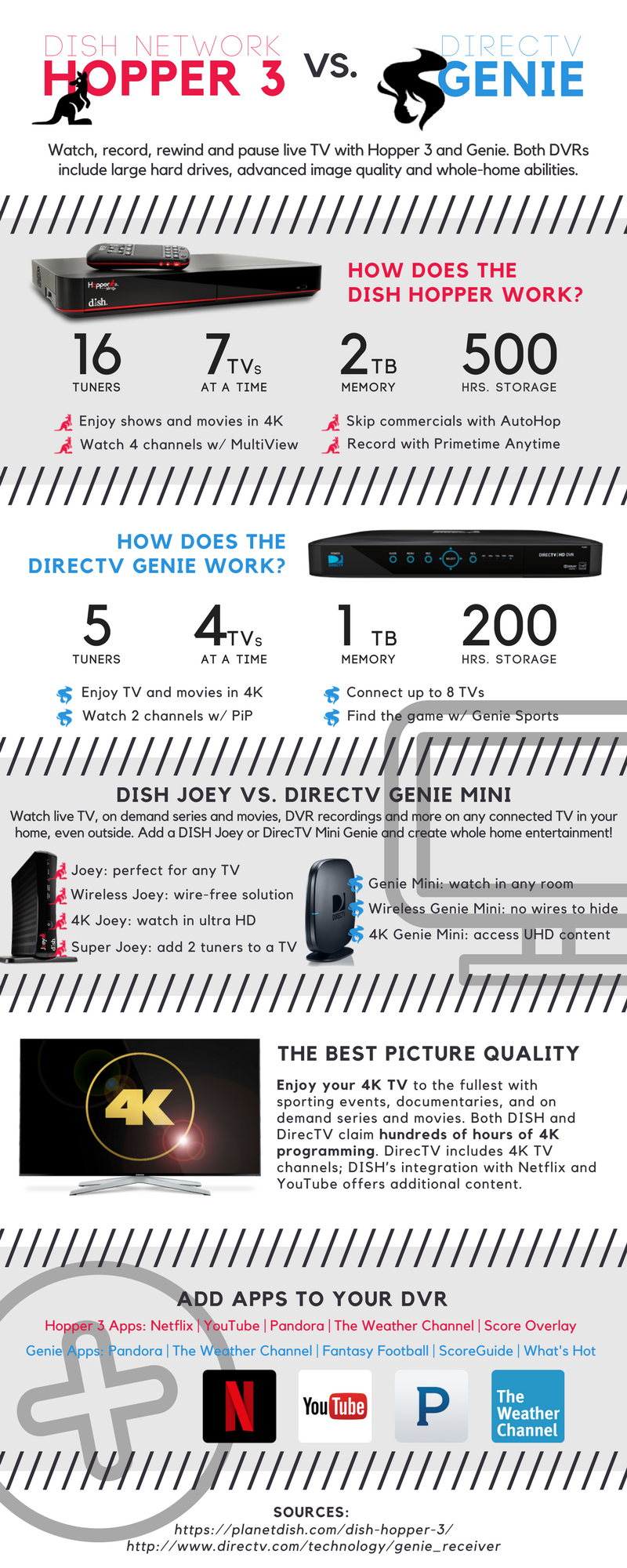 Infographic Courtesy of PlanetDish


1
2
3
For the latest in TvStreaming and Cord-Cutting News

Join US @ TVSTREAMERSCLUB.com
And you will be notified whenever we post a new article

Thanks for Making us Your TV Streaming Destination
---
Roku Channels • Index • Contact • Disclosure • Privacy
© 2023 mkvXstream.com
Use of third-party trademarks on this site is not intended to imply endorsement nor affiliation with respective trademark owners.
We are Not Affiliated with or Endorsed by Roku®, Apple, Google or Other Companies we may write about.